The Empress Theophano Prize focuses on Art as common ground for mutual understanding between peoples, and awards leading Pianist and Conductor Daniel Barenboim
A living legend of classical music and the West-Eastern Divan Orchestra, a highly symbolic initiative for building bridges between peoples through culture, are the recipients of this year's award.
© Studio 8 Photos, Efi Panagoula
You may watch the Ceremony Award (Tuesday 11th October 2022 | 17:30 CET, 18:30 EET) HERE
The third Empress Theophano Prize is focused on  Art and is awarded to leading Pianist and Conductor Daniel Barenboim, one of the most influential figures of the international music scene, who has distinguished himself both for his musical work and for his initiatives on issues concerning peace and understanding between peoples.  The Award Ceremony will take place on Tuesday 11 October 2022 in Thessaloniki, at the monument of the Rotunda, a symbol of multiculturalism and the intersection of peoples. Η.Ε. the President of the Hellenic Republic Ms Katerina Sakellaropoulou and the Prime Minister of Greece, Kyriakos Mitsotakis will honour the event with their presence and they will address a greeting.
Following the themes of Education and Science for the Common Good, and the awarding of the prize to the President of the European Commission Ursula von der Leyen for the ERASMUS student exchange programme (2020), and the pair of scientists who developed the first vaccine against the novel coronavirus, Dr Uğur Şahin and Dr Özlem Türeci (2021), this year's prize aims to highlight the role of Art in intercultural dialogue, in the figure of a legend of music and a great thinker of political and human collaboration, Daniel Barenboim. After seven decades on a mythical journey as an artist, his action has been linked to pioneering projects for peace, art, and supporting young artists: his greatest initiative is the creation of the West-Eastern Divan Orchestra, a classical music orchestra that consists of Israelis and Palestinians, known globally, for which he has received the title of Messenger of Peace from the United Nations.
A few weeks before the award ceremony, Maestro Daniel Barenboim stated, "It is an honour for me to receive this award on behalf of the musicians of the West-Eastern Divan Orchestra, since it is they who, through their participation in the orchestra, set an example of openness, dialogue and a strong will to listen to the narrative of the "other". […] The "Divan" musicians show outstanding courage and vision by coming together every year to tirelessly send out a call for dialogue and mutual understanding. It is in this spirit that I am personally very grateful for the recognition of our work through such a symbolic prize as the Empress Theophano Award". An eight-member ensemble of musicians from the Orchestra will attend the Award Ceremony alongside the Maestro. They will perform as part of the event's programme, in a powerfully symbolic initiative.
CONTACT: Vicky Papadimitriou, Project Coordination | E: info@theophano.eu | T: +30 6937 229858
The award ceremony will take place with the kind support of:
Official air carrier sponsor:
With the kind support of:
THE 2020 & 2021 EMPRESS THEOPHANO PRIZE AT A GLANCE
Chairman
Stavros Andreadis
Chairman, SANI/IKOS Group
Chairman, Cultural Society of Entrepreneurs of Northern Greece (GR)
Members
Nikolaos Efthymiadis
Chairman, EFTHYMIADIS Agrotechnology Group
Honorary Chairman, Federation of Greek Industries (GR)
Evangelos Gerovassiliou
Chairman, Gerovassiliou Wines (GR)
Constantinos Gleoudis
Chairman, KAVEX
Member of the Board, Hellenic Society for the Environment and Cultural Heritage (GR)
Theodoros Ikonomou
Chairman, Greek Forest Property Association
Head of a forest management and wood production firm (GR)
Nada Korac Kakabadse
Professor of Policy, Governance and Ethics, Henley Business School, University of Reading (UK)
George Mylonas
Chairman, ALUMIL Group (GR)
Sonja Puntscher-Riekmann
Professor Emeritus of Political Theory and European Politics, University of Salzburg (AT)
Stefan Schepers
Secretary General, High Level Groups on Policy Innovation (BE)
Vassos Konstantinidis
Chairman, INART (GR)
Chairman
Herman Van Rompuy
President Emeritus of the European Council
Former Minister of State of Belgium (BE)
Members
Mary McAleese
Former President of Ireland | Professor of Children, Religion and Law, University Glasgow (IRL)
Leonie Bell
Trustee Edinburgh International Festival | Director Victoria & Albert Museum Dundee (UK)
Nikiforos Diamandouros
Former European Ombudsman (GR)
Élisabeth Guigou
President, Anna Lindh Foundation | Former Secretary of State (F)
Tarja Halonen
Former President of Finland (FI)
Agnieszka Holland
Author and film director (PL)
Maria Luisa Poncela
Former Secretary of State (ES)
Michel Praet
Vice-President Museum of European History (BE)
Georges Prevelakis
Professor Emeritus, Paris-Sorbonne University (FR) 
Sir Ivan Rogers
Former UK Ambassador to the EU (UK)
Chiara Saraceno
Honorary fellow Collegio Alberto, University of Turin (IT)
Vassilios Skouris
Former President, European Court of Justice of the EU (GR)
Karl Prince zu Schwarzenberg
Former Minister of Foreign Affairs (CZ)
Rita Süssmuth
Former President of the German Parliament (DE)
Panos Tzonos
Professor Emeritus, Aristotle University of Thessaloniki (GR)
Luuk Van Middelaar
Professor of EU Foundations and Institutions, University of Leiden (NL)
EMPRESS THEOPHANO
Empress Theophano, who inspired this prize, is a historic figure of Europe who played a significant role in its development during the 10th century.
The niece of Emperor John I Tzimiskes, she married Otto II and was crowned Holy Roman Empress as his wife.  Following his death, she maintained the title of Empress. Her historic presence in Western Europe, dedicated to improving relations between East and West, offered a positive contribution to the cultural renaissance of western European territories, introducing to the west the central role women had in Byzantine society and transferring significant influence from the flourishing Byzantine empire in the fields of education, the arts, commerce, and health, while working to advance civil governance, promoting it over the military.
Empress Theophano is buried at the Cathedral of St Pantaleon in Cologne, Germany.
THE ROTUNDA MONUMENT
The emblematic monument of Thessaloniki, was constructed in the early 4th century AD, on the turning point between the pagan with the Christian world, probably as a temple for ancient cult worship or as a mausoleum for Constantine the Great (306-337). This circular, domed building measures 29.80 meters in height, 24.50 meters in diameter, its walls are 6.30 meters thick and can only be compared architecturally to the Pantheon in Rome. Not long after it was built and during the early years of the long-lived Byzantine Empire (330-1453), the Rotunda was turned into a Christian church with the addition of a sanctuary on its eastern side. The interior was decorated with Early Byzantine (4th- 6th c. AD) wall mosaics of unique artistry and beauty. It was Thessaloniki's cathedral church (metropolis) between 1524 and 1591, the year in which it was converted to a mosque by the Ottoman conquerors. It remained in use as a mosque until the city's liberation in 1912. Its dedication since that time to Saint George (Agios Georgios) is owing to the small neighboring church of this name. The mosaic decoration of the Rotunda is a masterpiece of Late Antique art.
Text source: http://galeriuspalace.culture.gr/en/monuments/rotonta/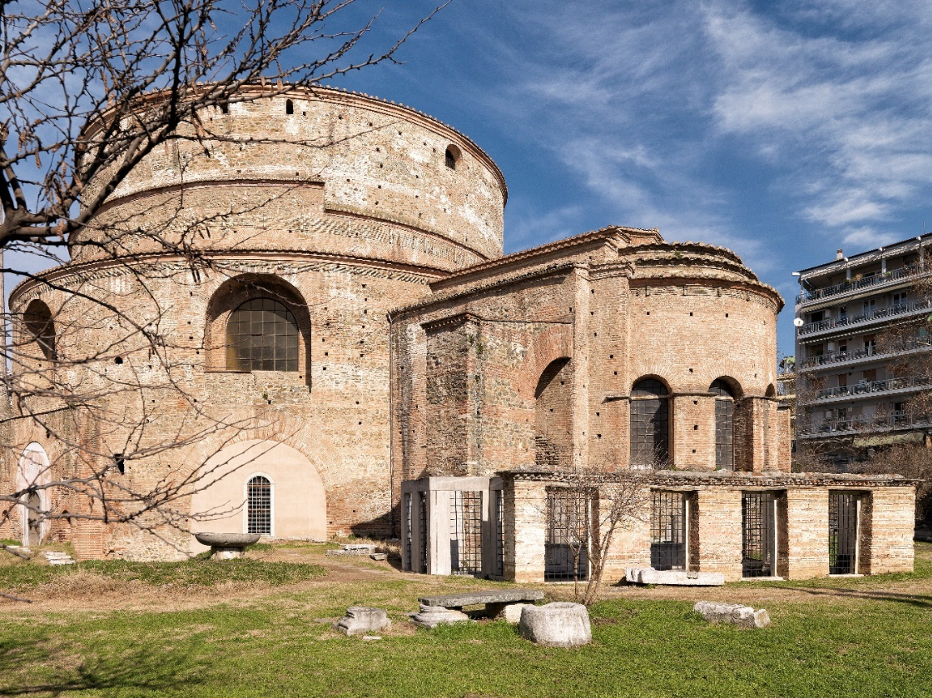 Photo credits: Ephorate of Antiquities of Thessaloniki City.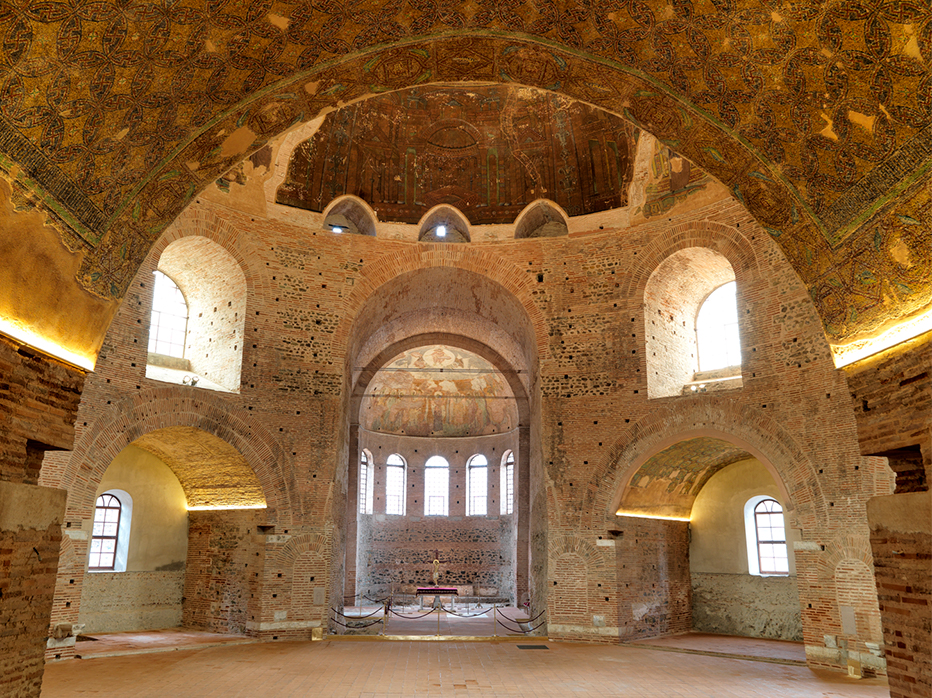 Photo credits: Studio 8 Photos, Efi Panagoula.